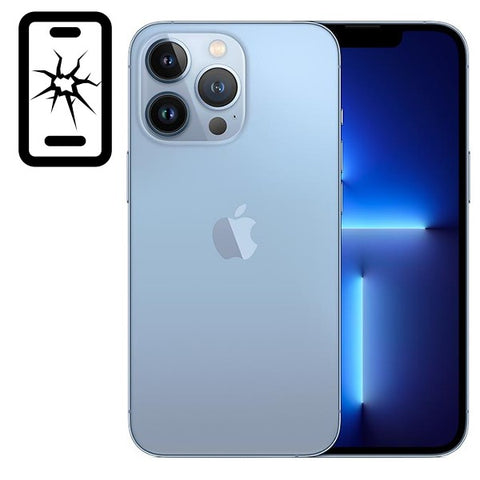 iPhone 13 Pro Glass Screen and LCD/OLED Repair
If your iPhone 13 Pro Screen is broken from an impact or drop, we can help.

THIS REPAIR IS CURRENTY UNAVAILABLE AND OUT OF STOCK.
PLEASE CONTACT US FOR MORE INFO IF REQUIRED. 
If there is no image on your display, touch screen not working correctly or the top glass is cracked, smashed or shattered and your screen needs to be replaced, we can fix it for you.
We offer both Postal Services and Drop Off at our Shop / Workshop in
Crewe, Cheshire for onsite repair.

When using our postal service, your iPhone screen will be repaired either Same Day or Next Day once arrived in store, your repair will be booked into our local system where progress updates and return tracking will be sent via text and email.

CLICK HERE FOR OUR PROCESS AND HOW IT WORKS.
iPhone Display Screen Grade Descriptions:
iTruColor Value: A budget screen to get everything working again, the colours, brightness and touch screen on this screen are good and everything works perfectly, however compared to an apple original you will be able to see they are not the same as the day your iPhone was made, not quite as vivid and bright, touch screen not as quick, Value is exactly what these are, a great screen for a great price!
iTruColor LCD: An excellent iPhone screen, the closest you can get to an Apple genuine display for a fraction of the cost! Colours, brightness and touchscreen are brilliant, if you want a quality display for a very fair price, these are what we recommend.
iTrColor OLED: Exactly the same as the LCD version above, however the OLED panel in this display technology means the black images are super black and colours are the highest vibrancy they can be, some iPhone screens come with OLED as standard, if you're unsure which is best for you, LCD or OLED? Get in contact and we can help.
Genuine Apple Refurbished: These displays have been refurbished with a new top glass panel, this means EVERY electronic part is Full Apple Genuine. Brightness, Colours and Touch screen are perfect! The components that make up your display: Image layer (LCD or OLED), Digitiser, Backlight and Diffuser(s) are the same as your iPhone screen was from day one manufacture, if you need to have Apple Genuine at a lower price, this display is the one to go for.
Full Genuine Apple: Exactly as it says! A full Apple Genuine Screen, the same display as the day you opened your new iPhone, you get what you pay for! Hence the cost!
Please Note: 
1. Not all screen grades are available for every iPhone version.
2. Some iPhone versions will display a message after repair advising you the screen has been replaced, this is normal and nothing to be concerned about.
3. FaceID, TouchID and other sensors may be damaged during repair, although the risk of problems is very low, factors like, where your screen is broken and how many glass fragments and shards there are can affect this risk, some of these sensors can't be fixed if damaged. Any questions or concerns, please contact us before booking in your repair.
Confidence in us:
With over 125,000 total repairs spanning over 20 years your Apple iPhone is in safe hands, for further re-assurance of who we are, what we do and how we work check the following links:

OUR PREMISES AND WORKSHOP

FACEBOOK REVIEWS (PC / Laptop Link or Find us on the FB App)
IN STORE REPAIR SERVICE INFO....
We offer a 1 hour or less in store iPhone screen repair service, most of the different grade screens we have in stock ready to fit, if you require a specific day and time for your repair, please let us know and we can assign the part and have a technician ready for you when you arrive. If you have any questions we are more than happy to help. You can contact us, through our website, give us a call on 01270 848554 or pop in store and see us at Repair World Direct, 109a Nantwich Road, Crewe, Cheshire, CW2 6BA (Corner of Edleston Road and Nantwich Road at the main traffic lights) Thank you.
iPhone 13 Pro Glass Screen and LCD/OLED Repair
---
We Also Recommend